Source: images.squarespace-cdn.com


Introduction to Aqaba
Aqaba should be at the top of your list if you're a travel enthusiast looking for a hidden gem. Located in Jordan, this coastal city offers a unique blend of history, culture, and natural beauty waiting to be explored.
Overview of Aqaba and its significance
From its position on the Red Sea, Aqaba has been a strategic trading port for centuries. Its rich history dates back to ancient times, with influences from ancient Egyptians, Nabateans, and Romans. Today, Aqaba is a bustling city that attracts tourists worldwide, thanks to its stunning beaches, vibrant coral reefs, and fascinating archaeological sites.
Aqaba's significance goes beyond its historical importance. It serves as a gateway to the region's most magnificent natural wonders, including the famous Wadi Rum desert and the ancient city of Petra. Whether you're interested in exploring ancient ruins, snorkelling in crystal-clear waters, or simply soaking up the sun on beautiful beaches, Aqaba has it all.
Best time to visit Aqaba and how to get there
The best time to visit Aqaba is during the spring and autumn months when the weather is pleasant and temperatures are mild. Summers can be extremely hot, so planning your trip accordingly is advisable.
Getting to Aqaba is easy, with several options available. If you're flying from abroad, you can reach Aqaba by flying into King Hussein International Airport, which is well-connected to major cities in the region. Alternatively, you can reach Aqaba by land from other parts of Jordan or neighbouring countries.
Once you arrive in Aqaba, getting around is convenient. The city is compact and easily navigable on foot or by taxi. Whether you explore the city's historical sites, indulge in water sports, or relax on the beach, Aqaba promises an unforgettable experience for every traveller. So pack your bags and get ready to immerse yourself in the beauty of Aqaba.
Explore Aqaba's Beaches
Aqaba, a beautiful coastal city in Jordan, offers breathtaking beaches for relaxation seekers and water activity enthusiasts. With its crystal-clear waters and stunning coral reefs, Aqaba is a paradise for beach lovers. So, if you plan a trip to this coastal gem, here are the top beaches you must visit.
Top beaches in Aqaba for relaxation and water activities
South Beach: Located near the border of Saudi Arabia, South Beach is known for its calm and tranquil waters. It is the perfect spot for sunbathing, swimming, and snorkelling. The beach offers stunning views of the Red Sea and colourful marine life.

Tala Bay Beach: Situated in a luxurious resort area, Tala Bay Beach is known for its pristine white sands and clear turquoise waters. This beach offers various water sports activities such as jet skiing, paddleboarding, and banana boat rides.

Coral Beach: As the name suggests, this beach is famous for its vibrant coral reefs. Snorkelers and scuba divers will be amazed by the underwater wonders. Relax on the beach or explore the stunning marine life that awaits just below the surface.
Recommended beachfront resorts and their amenities
Kempinski Hotel Aqaba: This luxurious beachfront resort offers breathtaking views of the Red Sea. With its private beach, infinity pool, and spa, it is an ideal place for relaxation. The resort also provides water sports facilities and fine dining options.

Movenpick Resort & Spa Tala Bay: Located on the shores of the Red Sea, this resort offers a private beach, a large swimming pool, and a diving centre. Guests can enjoy various activities, including snorkelling, diving, and boat trips.

InterContinental Aqaba Resort: Situated on the beachfront, this resort provides easy access to the pristine waters of the Red Sea. Guests can enjoy the infinity pool, spa, and various water sports activities. The resort also offers multiple dining options with stunning sea views.
Whether you seek relaxation or adventure, Aqaba's beaches will not disappoint. So, pack your swimsuit and explore the beauty that awaits in this coastal oasis.
Aqaba's Historical Sites
Must-visit historical sites in Aqaba
When visiting Aqaba, Jordan, history enthusiasts are in for a treat. The city boasts a rich historical heritage that offers a glimpse into its past. Here are some must-visit historical sites in Aqaba:
Aqaba Castle: The Mamluks built Aqaba Fort, a 14th-century fortress. It served as a strategic military stronghold and offers panoramic views of the city and the Red Sea.

The Aqaba Museum: Located in the city centre, the museum houses artefacts and exhibits that showcase the history and culture of Aqaba. Visitors can learn about the city's ancient settlements, trade routes, and maritime history.

The Islamic Mamluk Fort was built during the 16th century and served as a defence structure. It is characterized by its impressive architectural design and hosts occasional cultural events.
Learn about Aqaba's rich history and cultural heritage
A visit to Aqaba is an opportunity to explore its stunning beaches and vibrant marine life and delve into its rich history and cultural heritage. The historical sites offer a unique glimpse into the city's past, from its ancient settlements to its importance as a strategic trading hub.
By visiting these sites, travellers can gain a deeper appreciation for Aqaba's role in regional history and understand the cultural influences that have shaped the city. Whether exploring the architectural wonders of Aqaba Castle or immersing oneself in the exhibits at the Aqaba Museum, each visit offers a chance to connect with the city's roots.
Aqaba's historical sites are a testament to the city's enduring legacy and remind it of its importance in the region's history. They are a must-see for anyone seeking a well-rounded experience in Aqaba.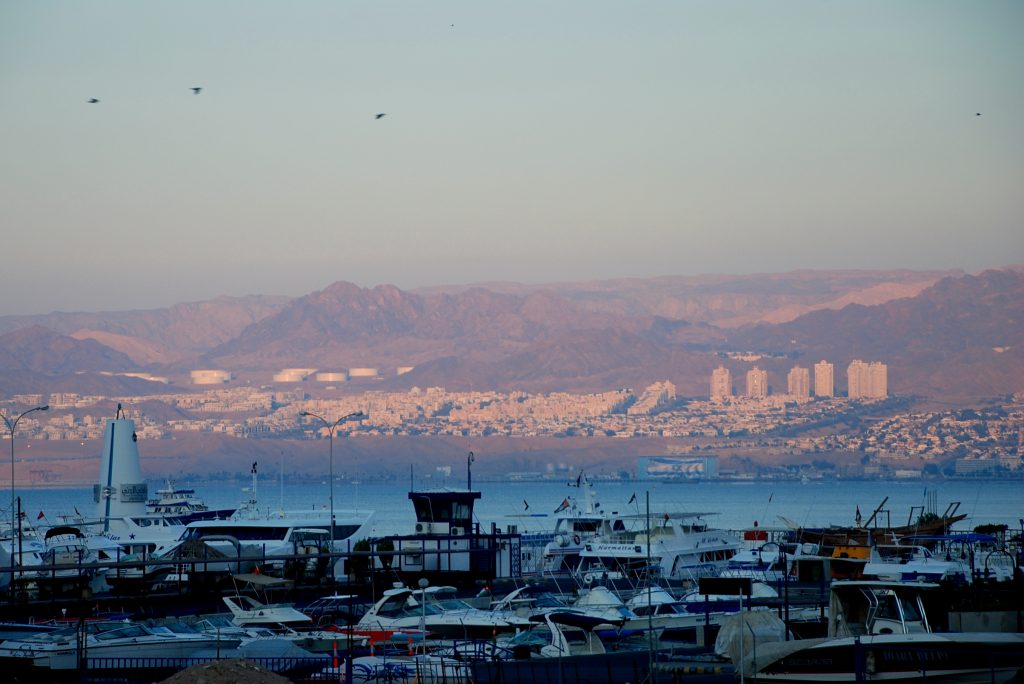 Outdoor Adventures in Aqaba
---
Exciting outdoor activities and adventures in Aqaba
Are you an adventure seeker? Look no further than Aqaba! Located on the Red Sea coast of Jordan, this hidden gem offers many outdoor activities to pump your adrenaline. From diving and snorkelling to hiking, Aqaba has something for everyone.
---
Diving, snorkelling, hiking, and more
Dive into the underwater paradise: Aqaba is famous for its crystal-clear waters, vibrant coral reefs, and diverse marine life. Whether you are a seasoned diver or a beginner, numerous diving spots cater to all skill levels. Explore underwater and witness breathtaking sights like colourful coral formations, tropical fish, and shipwrecks.
Snorkel in the Red Sea: If diving isn't your thing, don't worry! Snorkelling is a popular activity in Aqaba too. Grab your snorkel gear and discover the wonders of the Red Sea. Swim alongside tropical fish, spot vibrant corals, and marvel at the beauty beneath the surface.
Hike in stunning landscapes: Aqaba is not just about the sea; it also offers breathtaking landscapes perfect for hiking enthusiasts. Lace up your hiking boots and explore the nearby mountains, canyons, and trails. Enjoy panoramic views of the Red Sea and the surrounding desert as you immerse yourself in nature.
Other outdoor adventures: If diving, snorkelling, and hiking aren't enough, Aqaba has even more outdoor adventures to offer. You can indulge in water sports like jet skiing, parasailing, or a thrilling boat ride along the coast. You can also try horse riding, camel trekking, or even a desert safari.
With its diverse outdoor activities, Aqaba is the ultimate destination for adventure lovers. So pack your bags and get ready for an unforgettable experience!
Aqaba's Culinary Delights
Aqaba, a coastal city in Jordan, is known for its stunning beaches and historical sites and its culinary scene. From traditional Middle Eastern dishes to international cuisine, Aqaba offers a range of flavours that will delight any food enthusiast.
Local dishes to try in Aqaba
Mansaf: Considered the national dish of Jordan, Mansaf is a meat and rice dish cooked in a yogurt-based sauce. It is typically made with lamb, served on a bed of rice, and garnished with nuts and herbs.

Sayadieh: This is a delicious dish made with fish, rice, caramelized onions, and an assortment of aromatic spices. It is a must-try for seafood lovers.

Mezze: Mezze is a selection of small dishes typically served as appetizers in Jordanian cuisine. It includes hummus, falafel, tabbouleh, and other tasty dips and salads.
Popular restaurants and food markets
South Beach Restaurant: Located on the shores of the Red Sea, this restaurant offers a picturesque dining experience along with a wide variety of seafood dishes.

Al Marsa Fish Market: For a unique culinary experience, visit the Al Marsa Fish Market. Here, you can choose fresh fish and have it perfectly cooked by local chefs.

Downtown Aqaba: The downtown area of Aqaba is filled with small restaurants and food stalls where you can try authentic Jordanian street food like shawarma and falafel.
Whether you are a food enthusiast or just looking to experience the local flavours, Aqaba has something to offer for everyone. Explore the culinary delights of this vibrant city and indulge in the rich flavours of Jordanian cuisine.
Shopping in Aqaba
Best shopping spots in Aqaba
When you visit Aqaba, you'll find a variety of shopping spots that cater to different tastes and budgets. Here are some of the best places to shop in the city:
Aqaba City Center: This modern mall is a popular shopping destination, offering a wide range of international and local brands. You can find everything from clothing, accessories, electronics, and more.

Downtown Souk: For a more traditional shopping experience, head to the Downtown Souk. This bustling market is filled with small shops and stalls selling various goods, including spices, textiles, handicrafts, and jewellery. Don't forget to haggle for the best prices!

The Jordanian Gold Market: If you're looking for jewellery, the Jordanian Gold Market is the place to go. Here, you'll find a wide selection of gold and silver jewellery, including unique designs inspired by local traditions.
Unique souvenirs to take back home
When shopping in Aqaba, don't forget to pick up some souvenirs to remember your trip. Here are some unique items you can find:
Handmade crafts: Aqaba is known for its talented artisans who create beautiful crafts using traditional techniques. Look for hand-woven textiles, pottery, and woodcarvings showcasing local culture.

Red Sea-inspired jewellery: Take home a piece of the Red Sea by purchasing jewellery inspired by its vibrant colours and marine life. Coral and blue gemstones are commonly used to create unique and eye-catching pieces.

Spices and teas: Aqaba is a hub for spices and teas from the region. You can find a variety of aromatic spices, such as za'atar and sumac, as well as herbal teas that make great gifts for food and tea enthusiasts.
When exploring Aqaba, make sure to set aside some time for shopping. Whether looking for modern fashion or traditional keepsakes, Aqaba has something for everyone.
Day Trips from Aqaba
Are you planning a trip to Aqaba and looking for some amazing day trips to explore nearby attractions and destinations? Look no further! Your ultimate travel guide to Aqaba will help you make the most of your visit by recommending exciting day trips and excursions.
Exploring nearby attractions and destinations
Aqaba is not only a gateway to the mesmerizing Red Sea but also offers a variety of nearby attractions that are perfect for day trips. One of the must-visit destinations is the ancient city of Petra, a UNESCO World Heritage Site renowned for its famous rock-cut architecture. You can also visit Wadi Rum, a stunning desert landscape featured in many movies. The Dead Sea, known for its unique buoyancy and mud, is another popular day trip option.
Recommended day trips and excursions
If you are an adventure enthusiast, consider taking a snorkelling or diving trip to explore the vibrant marine life of the Red Sea. For history buffs, a visit to the Aqaba Fortress, built during the reign of the Mamluks in the 16th century, is a must. You can also take a boat tour to explore the beautiful coral reefs and enjoy the picturesque views of the surrounding mountains.
To make the most of your day trips, it is recommended to book tours or hire a local guide who can provide valuable insights and take you to the best spots. Don't forget to carry essentials like sunscreen, water, and comfortable footwear.
Explore Aqaba and its nearby attractions, and create unforgettable memories while visiting this beautiful port city!
Accommodation in Aqaba
Discover the best hotels and resorts in Aqaba
Looking for the perfect place to stay in Aqaba? Look no further! Aqaba offers a wide range of hotels and resorts that cater to every traveller's needs. Whether you're looking for a luxurious getaway or a budget-friendly option, there's something for everyone in this beautiful coastal city.
For those seeking a luxurious experience, Aqaba is home to some of the most prestigious resorts in Jordan. These resorts offer stunning beachfront locations, world-class amenities, and impeccable service. Many also offer private villas and suites with breathtaking views of the Red Sea. You can relax by the pool, indulge in spa treatments, or enjoy gourmet dining options - yours!
If you're travelling on a budget, don't worry. Aqaba has plenty of affordable accommodation options as well. From cosy guesthouses to budget hotels, you can find comfortable, clean rooms without breaking the bank. Don't let the price tag fool you - these budget-friendly accommodations still offer great service and convenient locations so you can enjoy your stay without compromising on quality.
No matter where you stay in Aqaba, you'll be rewarded with stunning views of the Red Sea, warm hospitality, and a vibrant atmosphere. So book your accommodation in Aqaba and prepare for an unforgettable experience in this hidden gem of Jordan.
Frequently Asked Questions
Q: Is AQABA safe for tourists?
A: Yes, AQABA is considered a safe destination for tourists. The local authorities take great measures to ensure the safety and security of visitors.
Q: What is the best time to visit AQABA?
A: The best time to visit AQABA is during the cooler months, from October to April. The weather is pleasant and the perfect time to enjoy outdoor activities and explore the city.
Q: What are some must-visit attractions in AQABA?
A: Some must-visit attractions include the Aqaba Castle, Aqaba Marine Park, the Red Sea, Wadi Rum, and the ancient city of Petra.
Q: What is the local cuisine like in AQABA?
A: The local cuisine in AQABA is a delicious blend of Middle Eastern and Mediterranean flavours. Don't miss out on trying dishes like mansaf (a traditional Jordanian dish), falafel, and baklava.
Q: Can I do water sports at AQABA?
A: Absolutely! AQABA is a haven for water sports enthusiasts. You can enjoy snorkelling, scuba diving, jet skiing, and even take a glass-bottom boat tour to explore the vibrant coral reefs in the Red Sea.